What should be my daily nutritional intake?
We all know that eating and drinking is both necessary and healthy. But how much is enough and how much is too much?
The amount of food (or energy) an average human needs to consume on a daily basis to cover all nutritional needs is usually expressed in kcal/day (calories per day). According to Foodlabel.co.uk, women need (on average) between 1800–2200 kilocalories (kcal) a day whereas children need between 1500–2000 kcal and men 2200–2700 kcal (source).
These caloric intakes are built up from a number of different "building blocks" (types of energy sources) the human body needs. The average needed for each energy source is:
| | | | |
| --- | --- | --- | --- |
| Typical values | Women | Men | Children (5-10 years) |
| Calories | 2,000 kcal | 2,500 kcal | 1,800 kcal |
| Protein | 45 g | 55 g | 24 g |
| Carbohydrate | 230 g | 300g | 220 g |
| Sugars | 90 g | 120 g | 85 g |
| Fat | 70 g | 95 g | 70 g |
| Saturates | 20 g | 30 g | 20 g |
| Fibre | 24 g | 24 g | 15 g |
| Salt | 6 g | 6 g | 4 g |
(source)
While these numbers are a decent (rough) guideline, they don't factor in any variables specific to the person. For example, somebody who has an office job and a not very active lifestyle (no sports, taking the car to work, etc), will have a vastly different caloric need compared to a young person who uses a bicycle for his commutes and who works out five times a week.
The type of sports you are practicing also has great influence on both the amount of calories needed, as well as the composition of these calories and distribution among the different sources of energy. People who are building muscle need far more protein for example, while an endurance runner or cyclist needs to stack up on carbohydrates.
Calculating your needs
So, how many calories is enough? The formula for calculating your Basal Metabolic Rate (BMR, or rate at which your body burns calories in a state of rest) (source) is:
BMR (man) = 10 * weight(kg) + 6.25 * height(cm) – 5 * age(y) + 5
BMR (woman) = 10 * weight(kg) + 6.25 * height(cm) – 5 * age(y) – 161
According to the President's Council on Fitness, Sports and Nutrition (source), the most basic level of calories intake should be 1800 calories per day, which corresponds roughly with the BMR calculator for the average human height and weight (source). Always make sure to calculate the numbers for yourself though, as the average person can vastly differ from your specific body. Endurance training burns more calories than resistance training (One Stop Fitness workouts are a mix of these two types of training, with the cardio workouts focusing more on endurance and the strength workouts focusing more on resistance).
The workouts provided by One Stop Fitness average between 8 and 12 calories burned per minute (depending on both the difficulty level of the workout and how hard you push yourself). If you are trying to gain muscle mass, a good rule of thumb is to add the amount of calories burned to your daily intake. Try to add these calories in a combination of protein and carbohydrates, to supply your body with enough fuel to both build lean muscle and maintain your energy levels. Make sure to avoid processed foods as much as possible. Unsaturated fats and sugars are actually not that bad, but you should always keep track of keeping your intake of fats and sugars balanced (compared to your protein and carbohydrate intake) (source). Try to limit your intake of saturated fats though, as they are generally less healthy. It's ok to eat them in small amounts though, as they actually contribute to your immunity system (source).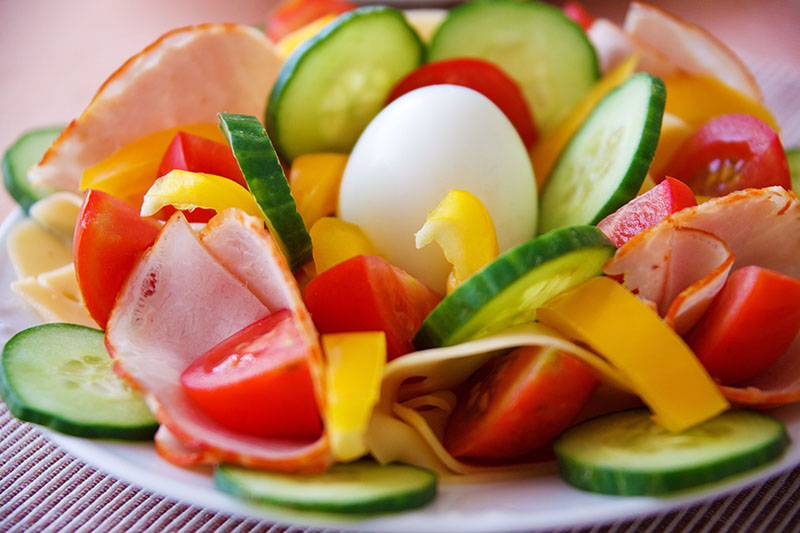 The right amount of calories

If you are trying to lose weight, make sure the amount of added calories to your baseline amount is less than the amount of burned calories during workouts on that day. A decent starting point is adding half of the amount of burned calories as extra intake. From this starting point, you can subtract calories (if you want to lose weight faster) or add calories (if you feel hungry all day or want to stay on the same weight). If you want to gain mass, make sure to add as least as many calories as the amount burned on that day. Also focus on strength workouts and workout for at least 30 minutes per day. It is generally not a good idea to make your calorie deficit too big if you are trying to lose weight while working out extensively though. Your body will not be able to sufficiently recover during workouts if it is not supplied with enough fuel and you will not make the most progress possible.
Finally, you should always aim to drink at least two liters of water per day. Water is the most important fuel for your body (as your body consists of about 70% water) and is tremendously important for both weight loss and muscle gain. It also does not contain any calories, so you do not need to factor it in your calculations.
Don't forget to check out our healthy recipes, if you are looking for inspiration on changing up your diet!